This post is in partnership with Kalahari Resorts and Pocono Mountains Visitors Bureau who hosted our visit. All opinions are my own. You can read my fullDisclosure Policyhere.
There's something about an indoor water park that brings out the kid in all of us. The Pocono Visitors Bureau recently hosted my family for a weekend at Kalahari Resort, Poconos, and we had the BEST time. I knew this was a huge water park, but we discovered it's so much more than that. And while there are SO many fun things to do in the Poconos, if you wanted to stay on-property during your entire visit, you could certainly do that and never be short on family fun.
Highlights & some of the must-dos at Kalahari
As soon as you make the turn into Kalahari Resorts, you know you are some place special. The grounds are gorgeous and the resort has a real presence. They've gone all-out with the safari theme!
Safari Theme at Kalahari
There are magnificent animals scattered throughout the resort, inside and out, making for fun photo ops.
The Kalahari Resort
The combination of beautiful decor and all of the family fun packed into one place make Kalahari the perfect mix of an upscale resort and a resort where you can let your hair down and just PLAY.
The lobby includes several restaurants, stores (including a fun candy shop and a Starbucks!), and this fantastic fountain.
Marrakesh Market was my favorite on-site store. It includes some grab-and-go food items, but the gift shop is what really stands out. My daughter and I both got new shirts here. They have a really unique selection. If you want a souvenir, you'll definitely want to stop here!
Accommodations at the resort
Just as the animal sculptures outside are stunning, so is the artwork inside. It's all safari themed and really beautiful. The blue background in this room kept changing colors!
Our room was very comfortable too. You can see just beyond the beds that we had a couch as well. I always like when there's an extra spot to sit that's not on the bed.
One really smart feature was in the bathroom: There was a clothesline that pulled across the shower so you could hang your wet suits on it to dry. Brilliant! Why have I never seen this before?!
Hours of fun at the Arcade
I think the water park is the big draw to Kalahari, but it's worth mentioning that there is so much more to do. There's a huge arcade, mini golf, a great kids' club, an escape room, mini bowling, and more. Truly something for everyone here, and kids of all ages are going to find all kinds of activities they love!
America's Largest Indoor Water Park
Kalahari Resort in the Poconos, PA is known for their water park. After all, it's America's Largest Indoor Water Park! If that sounds overwhelming, I assure you, it's a GOOD thing.
We've been to indoor water parks many times and sometimes they can feel crowded and a little crazy with all of the people in a confined space. We absolutely love how spacious Kalahari is. It's a big resort, and I'm sure there were a lot of people there but it really never felt like it to us. Major bonus points to Kalahari for that!
The wave pool is a great place for families with kids of all ages. Even at its deepest, it's relatively shallow (my 9yo son could stand) and with a zero-entry opening, even little ones can enjoy splashing around.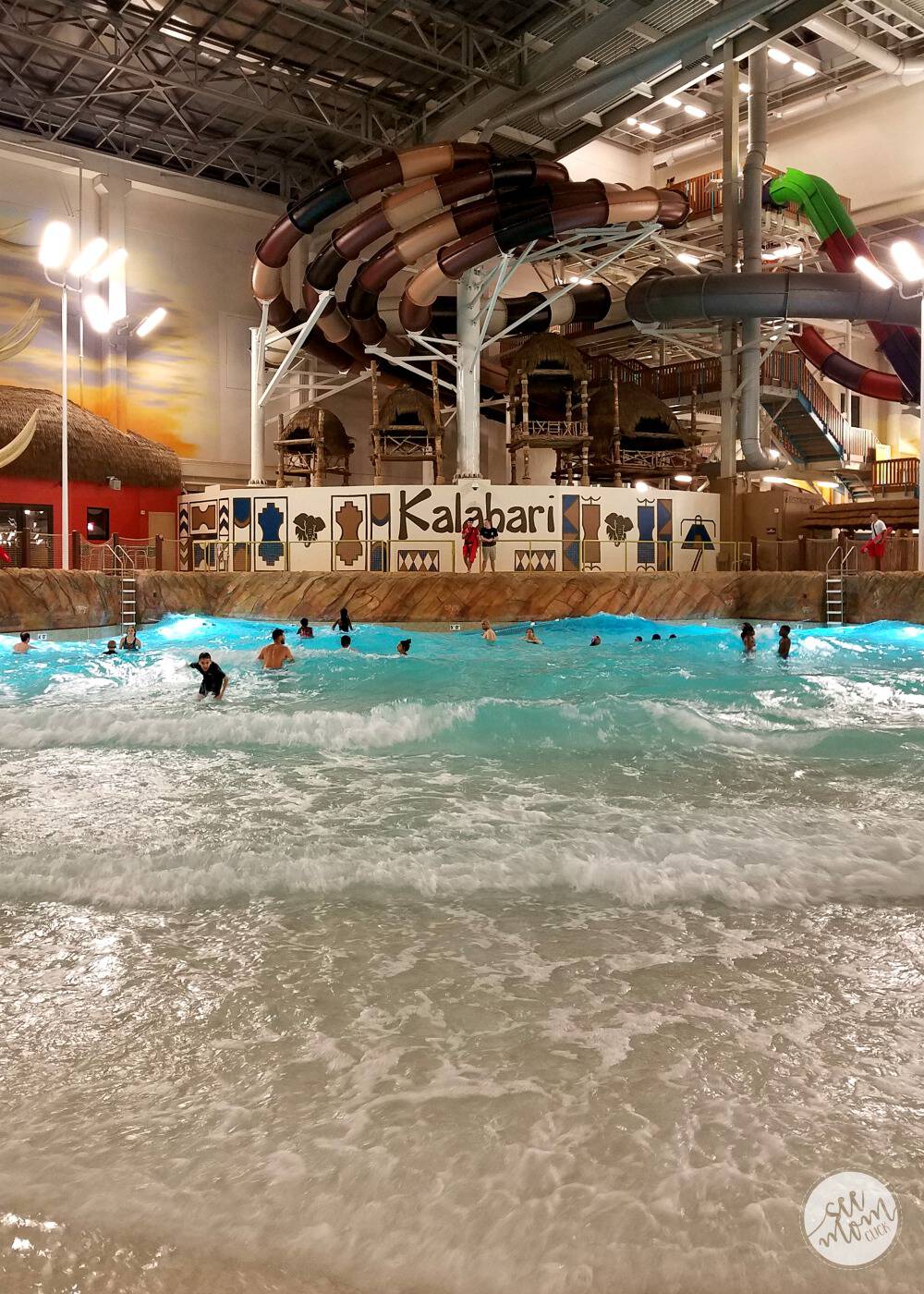 A note to parents: I was really impressed with all of the active life guarding, especially at the wave pool when the waves were on. These guards were ON DUTY, really watching the water and kids playing in it. Kudos to Kalahari for having such a great team!
I took these pics of the wave pool from a chair just beyond the water's edge. There's tons of seating in various areas, so if your kids are old enough to be in the water without you, have a seat and enjoy the waves!
No water park is complete without a lazy river. We loved this one because, as you can see, it wasn't at all crowded.
There are tons of water slides at Kalahari, some of them more daredevilish than others! The kids tried to get on as many as they could and had so much fun. A couple of the slides offer a family option, with rafts that hold the entire family!
We sat and watched some brave souls ride the Flow Rider for a while. Some of them were really good! If you want to try your hand at indoor surfing, this is the place to do it.
See the area in the front with the orange surfboard? One of the lifeguards stays there and provides instruction to the surfer. I've never seen this before and thought it was so cool!
I mentioned above that the wave pool is a great place for even the youngest splashers, but there is an entire baby area that is just adorable. I love these swings! This water is super shallow, just enough for little ones to get a taste with mom and dad.
Kalahari Resort Restaurants
There are AMAZING dining options at Kalahari. We had the opportunity to eat at 3 different restaurants on-property and were completely impressed with every one of them.
The Great Karoo Marketplace Buffet is awesome for breakfast. No wait (ideal when you have kids) because you can run right up to the buffet and load up your plate.
They have tons of breakfast options: all the usual hot foods like eggs, bacon, sausage, waffles, and more. And they also have a huge assortment of pastries and fruits. Delicious!
If you love Italian food, don't miss dining at Sortino's Italian Kitchen. The kids loved the real Italian sodas!
I had the Linguine with White Clam Sauce for dinner and it was out of this world! So good (especially paired with a glass of white wine).
Be sure to save room for dessert. The tiramisu is insanely good!
B-Lux is another must-try restaurant. Known for their burgers and shakes, I'll again advise you to save room for dessert. Just look at those shakes. Yum!
Gorilla Grove Treetop Course
After we enjoyed so much of the indoor water park, we tried our hand with some outdoor adventure at Gorilla Grove Treetop Adventures. This treetop course is on property, and you'll pass it when you drive into the resort.
After you get checked in, strapped in, and all set to go, an instructor will give you a lesson. My entire family was kind of overwhelmed with information, and I want to mention that in case you feel this way too. Because as soon as he was done talking to us, they guided us through a practice area of clipping in and out, and everything just clicked. It all made sense and was really easy, so don't be intimidated by the gear or the terminology.
We had so much fun doing this. My kids went first and then I followed, my husband behind me. They are more brave than I am! But I figured if my 9yo son can do this stuff, so can I. And I did!
There are few courses (we started on the easiest one which was challenging enough for me!), and there are a variety of obstacles like walking on planks, balancing on ropes, and more.
You're strapped into the harness which is attached to a line that won't let you fall, so you're safe the entire time. I do think it's a good idea to go with a group though, or at least one other person so you can look out for each other and cheer each other on.
The zip lines are really fun, and in addition to a couple of them being included in the treetops courses, there's one BIG zip line you can do separately. We all did that when we got done with the ropes course. Check my video at the top of the post to catch a glimpse!
Learn More
We had the best stay at Kalahari Resorts, Poconos. The water park is amazing, and there is so much else to do. One of the things we just loved about it is that the resort is so big that it never feels crowded. I don't know about you, but I'm not a fan of being packed in when I'm on vacation. So this atmosphere was perfect.
The resort itself is beautifully decorated, comfortable, and spacious. And the food! There are so many awesome dining options, you would truly never have to leave. Check out the Kalahari website for more details. This is one of our favorite weekend getaways to date!
There is SO much family fun waiting for you in the Poconos. Visit thePocono Mountain Visitors Bureauwebsite to find all the best things to do on your visit. Get inspired by their social media posts, too:Facebook|Twitter|Instagram
More Pocono Mountains Posts:
The Inn at Pocono Manor Review

Planning a Pocono Mountains Vacation

The Lodge at Woodloch

Woodloch Resort Review

Great Wolf Lodge, Poconos Review

Our Exciting UTV Ride with Pocono Outdoor Adventure Tours